Update, October 2013 – HeritageOttawa.org – The Built Heritage Sub-Committee recently recommended that 187 Billings be designated as a heritage property. The Sub-Committee's recommendation goes to the Planning Committee next and then on to the full Council.
---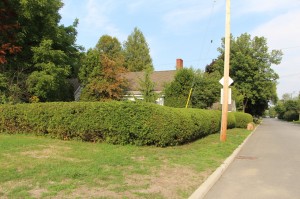 The oldest extant house in Junction Gore (and perhaps the whole city) is 187 Billings Avenue in Alta Vista. It's been there in some shape or form since around 1823 although it will probably be demolished later this year.
This wooden house is probably the oldest extant building in the city of Ottawa. It predates the canal and Parkhill (The Billings' Mansion). It was built in 1823 to house the Billings' foreman and was known to locals as the Foreman's House.

A well known settler of Junction Gore was Archibald McKellar. He arrived in the early 1840s with his wife Agnes Pollock. He rented the land from Braddish as well as this house and ran a successful dairy farm here until circa 1871 when he moved to Nepean where his name is better remembered (McKellar Park).

At that time Charles Billings's, a son of Hugh Braddish Billings, married Eliza Mutchmor and moved into the house with his bride-their descendants lived there until the 1960s.

Source: The Settlement Of Billings Bridge – Bytown.net
This March, the owner held an estate sale as she has moved into a retirement home. I got to take a look inside and had a chance to chat with her for a few moments. She's an artist and moved to Ottawa from Virginia back in the 60's. She bought the house from a Billings sister back in 66 or 67.
The oldest part of the house is surrounded by all sorts of additions. There have been 5 or more significant ones made over the years and the layout is beyond complex. I counted 4 kitchens and 5 stairwells.
When I mentioned to the current owner that I had read that some of the locals used to refer to it as the Foreman's house, she said she'd never heard of that suggesting it was always known as the Billings Farmhouse to her family.
The house is situated on a big lot and will be up for sale soon. The owner expects the house will be torn down and replaced with a big shiny new one.
Here's a gallery of old houses in what used to be called the southern part of Junction Gore, then Rideau Park and now Alta Vista.